Gunnebo Fireman Suit merupakan kelengkapan dari pasukan pemadam kebakaran. Peralatan yang terdiri dari jacket dan overtrouser ini sangat diperlukan oleh pasukan pemadam kebakaran pada saat bertugas untuk melindungi kulit manusia dari percikan atau jilatan api.
SPESIFIKASI :
1. Outer Shell layer (Lapisan luar)
Komposisi 93% NOMEX Aramid Fibre, 5% Keviar fibre, 2% carbon P-140
Type standard 6.0 OZ
Warna : Red Gunnebo (tersedia warna lain)
Water reepellant
2. Moisture Barrier (Lapisan Tengah), terbuat dari bahan breathable fleece, sehingga memungkinkan sirkulasi udara masih bisa berlangsung, akan tetapi debu/ partikel asap tidak bisa masuk menembus lapisan dalam.
3. Thermal liner (lapisan dalam), terbuat dari bahan Soft-Cotton
Kelengkapan :
Fireman helmet standard
Fireman boot with steel toe
Sarung tangan aluminized
Tas kompartemen
PAB FIREMAN HELMET
PAB Fireman helmet adalah solusi konstruktif terbaru helm pemadam kebakaran profesional, dikembangkan, dirancang, dan diproduksi sesuai dengan prinsip-prinsip dasar dari standar Eropa EN 443.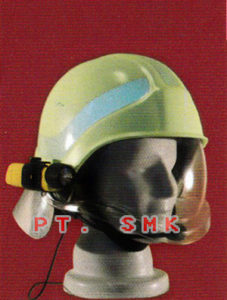 FIREMAN BOOT
Oil resistant and flame retardant sole, electric shock resistant
Steel toe cap for toe protection
Steel mid sole for footstep protection against punctures.