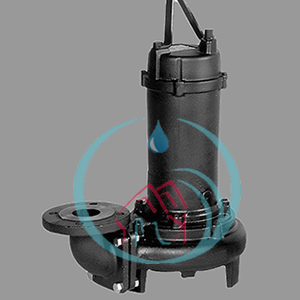 FEATURES :
Non clog operation with "cutting" action
Non-clog semi-open impeller and "cutting" action prevents clogging by fibrous matter. Models up to 3.7 kW have a chrysalis shaped suction port, while larger models have a radially grooved suction cover
Robust Construction
Rugged cast iron construction, all fasteners of stainless steel and a 4 pole motor
Double mechanical seal in oil chamber
An oil lubricated double mechanical seal with lower faces of hard silicon carbide provides strong and reliable shaft sealing
In built motor protection
Quick acting dual response overloads provides protection against overload, lock or open phase
Automatic Operation
All models up to 3.7 kW are available as automatic (A'type) pumps with inbuilt controls and float switches. No need for separate control panels, simply connect to power source.
APPLICATION :
Sewage
Waste water
Storm water drainage
SPECIFICATION :
Model : DF (with cutter)
No. of Pole : 4
Liquid Handled :
– Type of Liquid : Sewage
– Temperature : 0-40 derajad Celcius (DF, DFA) ; 0-32 derajad Celcius (DFJ)
– Maximum Solids Size : 50 DF : 35 mm, 65 DF : 40 mm, 80 DF : 46 mm, 100DL : 57 mm
Maximum Submergence : 8 m
Minimum Submergence : Refer to water level (L.W.L) in dimensions
Synchronous Speed : 1500 minˉ¹
Contruction :
– Mechanical seal : Double mechanical seal
– Impeller : Semi-open, non-clog
– Bearing : Prelubricated bearing
Material :
– Casing : Cast iron
– Impeller : Cast Iron
– Shaft : 403 Stainless steel
– Mechanical Seal :
* Impeller side : silicon carbide vc silicon carbide
* Motor side : Ceramic vs carbon
– Pacing : NBR
MOTOR :
Type : 4 pole, air-filled waterlight
Insulation : Class F
Protection :
– Built in overload protector (up to 7.5 kW)
– Built-in temperature detedtor protection (11-22 kw)