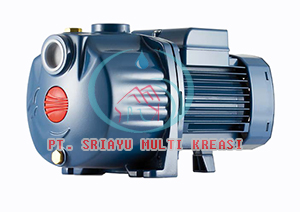 Performance Range :
Flow rate up to 130 l/min ( 7.8 m³/h)
Head up to 52 m
Application Limits :
Manometric suction lift up to 7 m
Liquid temperature between  -10°C and +40°C
Ambient temperature between  +40°C
Maximum working pressure 6 bar
Continuous Service S1
Installation And Use :
Suitable for use with clean water and with liquids that are not chemically aggressive towards the materials from which the pump is made. As a result of their quietness, these pumps are widely used in domestic applications such as the distribution of water in combination with small and medium sized pressure tanks, and for the irrigation  of gardens and orchad, etc.
The pump should be installed in an enclosed environment or shelteres from inclement weather.
COMPONENT
CONSTRUCTION CHARACTERISTICS
PUMP BODY
Cast iron with an Epoxy Electro Coating treatment, with threaded ports in compliance with ISO 228/1
BODY BACKPLATE
Stainless steel AISI 304
IMPELLER
Noryl FE1520PW
DIFFUSERS
Noryl complete with anti-wear ring
MOTOR SHAFT
Stainless steel EN 10088-3-1.4104

MECHANICAL SEAL

Seal
Shaft
Materials
Model
Diameter
Stationary ring
Rotational ring
Elastomer
AR-13
ø 13 mm
Ceramic
Graphite
NBR

BEARINGS

Pump
Model
2CP 80-C

6202 ZZ – C3 / 6201 ZZ

3CP 60-C
3CP 80-C
4CP 80-C
3CP 100-C
4CP 100-C
6203 ZZ / 6203 ZZ

CAPACITOR

Pump
Capacitance
Single-phase
(230 V or 240 V)
(110 V)
2CPm 80-C
10μF 450 VL
25 μF 250 VL
3CPm 60-C
3CPm 80-C
12.5μF 450 VL
25 μF 250 VL
4CPm-80C
14μF 450 VL
25 μF 250 VL
3CPm 100-C
4CPm-100C
20μF 450 VL
60μF 300 VL

ELECTRIC MOTOR

2-4CPm : Single-phase 230 V – 50 Hz with thermal overload protector incorporated into the winding
2-4CP : three-phase 230/400 V- 50 Hz