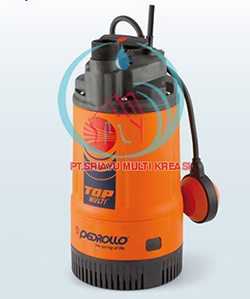 TOP MULTI adalah pompa celup multi impeller yang direkomendasikan untuk memompa air bersih tidak bersifat korosif. Dengan efisiensi dan kehandalan pompa Top Multi dapat digunakan di rumah tangga, maupun industri. Baik untuk taman, memompa air dari bak penampungan yang relatif dalam, dan untuk keperluan lainnya.
Pompa dilengkapi dengan pelampung yang membuat pompa bekerja secara otomatis.
Kabel power 10 meter dan juga dilengkapi dengan katup Check Valve.
Performance Range :
Flow rate up to 120 l/min (7.2 m³/h)
Head up to 42 m
Application Limits :
Immersion depth :
– 5 m with 10 m long power cable
– 10 m with a sufficiently long power cable
Maximum liquid temperature +40°C
Passage of suspended solids up to 1.3 mm
Suction down to 22 mm above ground level
Continuous Service S1
Installation and Use :
Suitable for use clean water and liquids that are not chemically aggressive towards the materials from which the pump is made. As a result of their high efficiency and reliability they are suitable for use in application such as domestic water supply from reservoirs, tanks or relatively deep well, for drawing rain water from cisterns to water gardens or for use in irrigation system, etc.