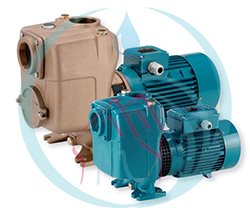 Self Priming Centrifugal Pump Calpeda A 65-150C/C close coupled centrifugal pump with open impeller. The built-in backflow preventer avoids reverse siphoning when the pump is stopped and assures automatic re-priming at the next start.
The pump re-primes itself even if partially filled with liquid and with completely empty suction pipe.
This pump version with pump casing and lantern bracket in cast iron.
Applications :
Clean or slightly dirty water, also with solids up to 10 mm grain size for A 40, A 50 and 15 mm for A 65, A 80
For draining a basin or a sump
For irrigation
For civil and industrial applications
Operating Conditions :
Liquid temperature from -10 deg. C to +90 deg. C
Room temperature up to 40 deg. C
Maximum permissible working pressure up to 6 bar (10 bar for A 80-70)
Continuous duty
Motor :
2 pole induction motor, 50 Hz (n = 2900 rpm)
Three phase
230/ 400 V +/- 10% up to 3 kW
400/ 690 V +/- 10% from 4 to 7,5 kW
Insulation class F
Protection IP 54
Materials :
Pump casing
Suction flange
Inspection cover
Lantern bracket
Impeller
Cast iron
Shaft
Chrome nickel steel
Mechanical seal
Carbon – Ceramic – NBR
Special Features on Request :
other voltages
Frequency 60 Hz
Protection IP 55
Special mechanical seal
Higher or lower liquid or ambient temperatures
Construction with bearing bracket
Performance specification :
Model
A 65-150C/C
Voltages
230 V 11,5 A
400 V 6,6 A
Rated motor power output (P2)
2.2 kW 3 HP
Capacity
15 m³/h 250 l/min ; Head 17,5 m
18 m³/h 300 l/min ; Head 17 m
24 m³/h 400 l/min ; Head 16 m
30 m³/h 500 l/min ; Head 14 m
33 m³/h 550 l/min ; Head 13 m
36 m³/h 600 l/min ; Head 11,5 m
42 m³/h 700 l/min ; Head 9 m
48 m³/h 800 l/min ; Head 6,5 m
Input
2.5 Inch
Output
2.5 Inch